As standard, our subscriptions come with 800 miles per month.
Our monthly subscription packages come with 800 miles as standard. The good news is, we're not strict on when you drive these miles over the course of your subscription and instead average it out over the time you're with us. So, to avoid any additional mileage fees you just need to average out at 800 miles per month.
For example, if you were on a 1,000 mile per month subscription and drove 800 miles in month one, then 1,200 miles in month two, that would average out at 1,000 miles per month – and that's all good with us.
It's worth noting, though, that if you're above your mileage allowance at the end of your subscription, you will be subject to excess mileage fees.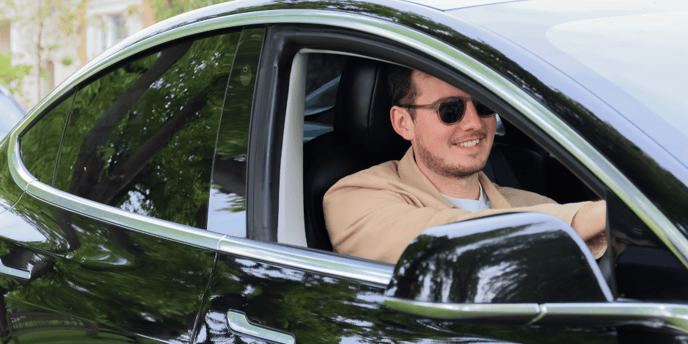 Enjoy more miles with elmo
We know that sometimes our subscribers will need to make longer journeys, so we do offer additional mileage bolt ons. This is an additional cost based upon a percentage of your monthly car subscription.
Mileage bolt-ons
| | | | | | |
| --- | --- | --- | --- | --- | --- |
| | 800 miles | 1,000 miles | 1,200 miles | 1,500 miles | 1,800 miles |
| Price | Inclusive | 5% | 10% | 17.5% | 25% |
For example, if you drive a Fiat 500e Icon and want to up your mileage to 1,000 miles per month, then you would pay 5% of £449 which is £22.45 per month.
How do you add more mileage?
This can be done at checkout when you first sign up, or if you're already a subscriber, please email us at hello@elmodrive.com and we'd be more than happy to amend your mileage package.
If you exceed your mileage allowance over your subscription term, you will be charged over mileage fees at the end of your subscription. This price is based upon the type of car and the over mileage:
Over mileage fees
| | | | | |
| --- | --- | --- | --- | --- |
| | Example car | up to 2,000 miles | 2,000-2,500 miles | 2,500+ miles |
| City | Fiat 500e, Renault ZOE | 25p per mile | 50p per mile | £1 per mile |
| Medium | MG5, Peugeot e-2008 | 35p per mile | 50p per mile | £1 per mile |
| Premium | Tesla Model 3, Audi e-tron | 45p per mile | 50p per mile | £1 per mile |
* excess mileage charges are ex. VAT